Back in 2002, just a year after FFA was founded by Marcos and David Avellan, we had Tito "the Huntington Beach Badboy" Ortiz performing a seminar at our school. It was a big honor at the time, as he was the reigning UFC champion at the time.
Back then, the UFC was in its dark ages – where you couldn't watch it on pay-per-view due to government cracking down on the unregulated sport. So only hardcore fans really knew the significance of having a UFC champion teaching at your academy.
Jorge was one of those hardcore fans. He was around 18 years old at the time, and he came to the academy to see the champ and spoke with Marcos about joining. He told Marcos that he didn't have the money at the time, but he was going to save up so he could pay for the year upfront, and that he would be the first UFC champion from our gym.
He then left, and as a gym owner, you have all sorts of people make different claims on what they can or will do. So this wasn't something completely out of the norm.
Except a few months later, Jorge showed up, paid the year, and begun his training. It didn't take long to see that Jorge possessed the ability and desire to fight. He had some amateur boxing experience at Tropical Park, and he was no stranger to fighter on the streets.
After a year of training, he began competing. First in grappling tournaments. Here was one of his first matches as a white belt:
Shortly afterwards, he began fighting in MMA as a professional in the Absolute Fighting Championships in May 2003. Jorge's fast reflexes, quick hands, and devastating ground and pound proved to be a force to be reckoned with in the regional MMA scene.
Jorge's infamous backyard street fights occurred during his time at FFA. Kimbo "Slice" Ferguson, another big star that got into MMA with FFA, was already infamous for his backyard fights. He was training with Marcos and David, learning how to become a better street fighter – learning about elbows, knees, head butts, and the like.
Back then, MMA was paying very little, and Jorge needed some extra money to get by. So Kimbo opened the door to Jorge to enter in on of these backyard fights, and well, the rest is history. Here is the very first fight between Jorge and Ray, where you can see Marcos Avellan in the red shirt coaching Gamebred:
Here is the rematch with Ray, where Marcos is in the yellow shirt coaching Jorge:
After two street fights, Jorge went back into professional MMA. Ultimately with FFA, he rose to a record of 10-2, getting on the world wide stage with BodogFIGHT, a show that was nationally televised, and getting the AFC championship belt.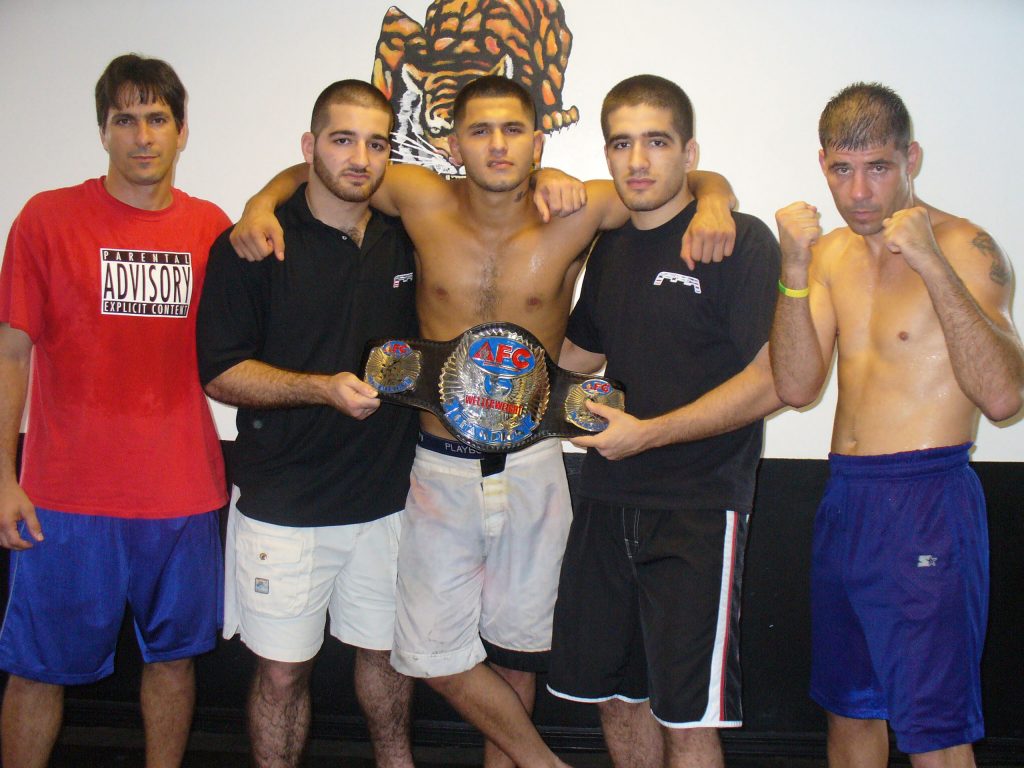 Jorge "Gamebred" Masvidal was just one of the young fighters that got their start at FFA. He is joined by many others such as:
Charles "Chainsaw" McCarthy – UFC Veteran and TUF Fighter
Alex "Bruce Leeroy" Caceres – UFC Fighter
Kimbo Slice – UFC Veteran
Miguel Baeza – UFC Fighter
Enrico Cocco – ADCC Veteran
Michael Rio – UFC Veteran, TUF Fighter
While many teams focus on recruiting talent, at the Freestyle Fighting Academy we build talent. So if you have big dreams, we can help you make them come true.