John "Big" McCarthy was clearly surprised with what he's seeing during the Kimbo Slice-Dada 5000 MMA fight last Saturday.
"I honestly thought it would be over within the first round. And you know, when we got to the end of the first round, I thought, 'Oh my God, this thing's going to go all three rounds.'," McCarthy said during a recent interview. McCarthy, along with the other officials, were the ones who officiated the WSOF 28 held in Orange County.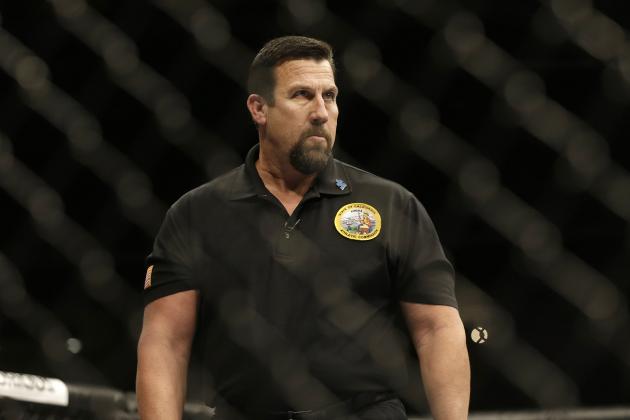 McCarthy is one of the pioneer officials who kept fighters from killing each other inside the cage. In fact, he is practically the one responsible for creating MMA referees to handle each fight. After all, McCarthy started working in the industry just after UFC 2 has started. With this, he was able to help build the current rule set for each and every bout ever hosted.
This is why when he was invited to handle the Bellator 149 event featuring Kimbo Slice and Dada 5000, he revealed he was ready more than ever. The bout had interesting fighters as well- 42-year old Kimbo Slice hasn't been inside the cage for about half a decade now, while Dada 5000 is a street fighter who just had about two professional fights on his record.
It was clear that both fighters were already exhausted by the end of round 1. But McCarthy wasn't going to make any consideration for these two; he said that he treated the MMA fight just like any other fight, and that is to implement the official cage rules without exception. These rules resulted to several restarts and standups, including the one during the second round were Slice was given a standup call in full mounted position.
"I always tell them, 'I'm going to stand you up unless you do something,' I'm telling Kimbo, 'Kimbo, do something.' And he's just tired. He's not trying to punch, he's not trying to go for a submission, he's just trying to catch breath and let time go by," McCarthy said.
This is the second time in McCarthy's career where he had to call a standup from a full mount. The first time was back in 1998 during UFC 17, where Jeremy Horn didn't do anything from a dominant position against Frank Shamrock, who was fighting for a UFC light heavyweight title as well.
"Jeremy was tearing Frank up. And it gets to the point, he gets full mount, and he just sits there, and Frank is underneath just holding on, and he's not doing anything. I said, 'C'mon Jeremy, you've got to work,' And it goes for about a minute and a half, and I said, 'Jeremy, you have got to do something or I'm going to stand you up.' And he doesn't. So I stop and stand them up," McCarthy recalled.
McCarthy further shared the thoughts he had back then when asked Horn what the hell he was thinking in the heat of the moment.
"I went to the back afterwards, I said, "What in the f— were you thinking? Did you not hear me? He goes 'Oh yeah John, I heard every word.' I said, 'What were you thinking?' He goes. 'Honestly?' and I said, 'No I want you to lie, Jeremy.' And he said 'Honestly, John, holy s—, I'm mounted on Frank Shamrock and I don't want him to do anything to me.' I went, 'That's all I needed to know, man.'," McCarthy shared.
As for the fight between Kimbo and Dada, Slice won by TKO during the third round of the fight. However, he was extremely mocked online before Dada's team revealed that the street fighter actually had a cardiac problem right after the MMA fight.
McCarthy made it clear that he's not wishing any ill upon Dada, but he just had to do his job as the referee of the fight.
"There was never anything that landed that was hard. They didn't hit each other with any hard shots. … Look, there are people that paid money to see this fight. This is not just about you laying on somebody because you're both tired. That's your fault for coming into the fight in that condition," McCarthy clarified.