It looks like MMA veteran Chuck Liddell and Jon Jones are having some beef on social media that won't go down anytime soon.
During the interview on "The Fighter and the Kid", Liddell said that he would be able to beat Jones if he was in his prime, and could still give the lightweight MMA champ a run for his money. After Jones, who has a record of 21-1 MMA and 15-1 UFC, was mentioned in a podcast last week, the MMA fighter took it to Twitter to answer back and throw a shade at the MMA veteran, saying that Liddell 'should've fought smarter and saved some chin'.
As expected, Liddell won't let this shade slide without answering back.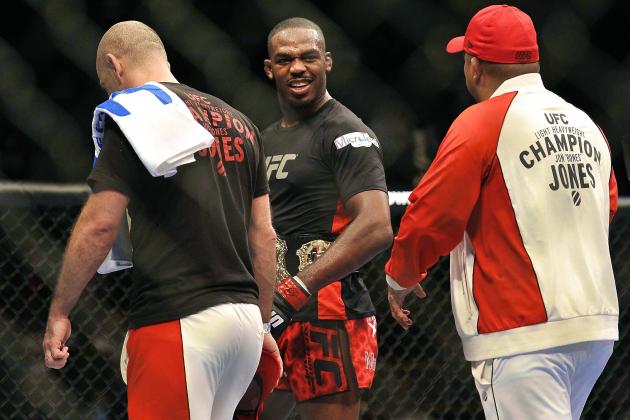 In a recent interview with MMAjunkie during the EA Sports UFC 2 launch party, Liddell said that Jones was throwing a shade at him but failed to tag him in the tweets.
"Funny thing about that; somebody showed me the other day but he forgot to tag me. I don't follow him, so I didn't see it. I don't know – the interview, if he listened to it, I didn't say anything bad about him. I wouldn't be mad at him if he said he could beat me in a fictional fight in my prime. Is that going to bother me? No. But if you ask me, in my prime, I knock him out. Styles make fights. I wouldn't have a problem hitting him. Sooner or later, he'd go down. He doesn't hit hard enough to stop me and he's not going to outwrestle me. Sorry. If you're going to go back at me, tag me. Let me know you're going back at me so I can respond. I just thought it was kind of weird," Liddell said.
Jones will be present again at UFC 197, but this time he'll be going up against MMA champ Daniel Cormier. This is the first fight Cormier will be having after getting suspended for his involvement in a hit-and-run car accident last year. The said event will take place this coming April 23rd at the MGM Grand Garden Arena.
After all the spats that took place on Twitter, Jones revealed that he was always nice to Liddell. The UFC Hall of Famer, on the other hand, admitted that he has the same sentiment, clarifying that all the talking wasn't personal.
"I don't have anything against the kid. He's had some problems and he's had out of the cage problems. I don't know what's going on in his head with that. He's a great fighter. It's like Mayweather. Mayweather is a phenomenal fighter, I don't like watching him. I don't want to watch a guy outpoint a guy, do just enough to win and cruise. I don't want a guy to pull guard in a fight with 20 seconds left that he's won every round in because he's worried about getting knocked out in the last 20 seconds. That's not my idea of a champion," Liddell admitted.