Just like all the other MMA fighters, Will Brooks worked very hard to get to where he is right now, and that is to be the Bellator lightweight champion.
Back in 2014, he was able to hit his goal by winning over Michael Chandler by split decision and received the Bellator interim title. After that, he was able to rightfully hold on to the belt after knocking out Chandler during the rematch. Winning over Marcin Held and Dave Jansen back-to-back have strengthened his place not only in the promotion, but as one of the renowned lightweight fighters in the industry as well.
Now that everything is done, Brooks said he is finally ready to move on to his next goal.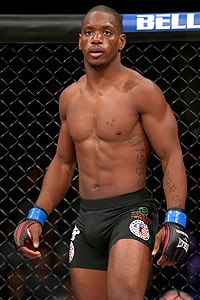 "I'm going to be honest with everybody, when I first got into this sport, I wanted to be a UFC lightweight champion. That's what I wanted to be, and I cannot lie about that. Earlier in my career, that opportunity didn't present itself but the opportunity to fight for Bellator did, so I flipped my goals I flipped the mindset that I was in at that time, and I said, 'listen, I'm going to be the best fighter that I can be for Bellator, I'm going to be a Bellator lightweight champion.' I accomplished that goal. That was a goal I set. I accomplished that goal, and now I want to move on to my next goal if that opportunity presents itself," Brooks revealed during a recent interview with The MMA Hour.
Everybody saw Brooks' decision coming. The MMA fighter's beef with the promotion has been witnessed by everyone in the social media. Brooks even expressed his frustrations further with long social media postings.
Things had to change when Brooks' daughter was born. Brooks said that he had to see things in a new perspective and handle things better, both in his remaining stay with Bellator and his public appearances.
"I've never pretended to be a perfect person.I think that's one thing that the fans have always appreciated about me, I've never pretended to be perfect. I know I make mistakes in regards to the way I relay things. But do I apologize for the way I think and the way I feel about things? No, I don't. Do I apologize for the way that I relay things? Yes, because the way I relay things is based off of emotion, based off of allowing different situations to force me to react, when really that's me giving up control of things," he said.
"I will not be one of those guys who goes out of his way to disrespect the organization in that fashion, go and try to do things behind their back, just because I recognize the fact that other guys may have tried to do that and things did not work in their favor, things did not work out well for them. I am not going to be that guy. I've said it before, I signed with Bellator, this is the organization that I fight for, and that's what I'll continue to do until that contract is up or whatever happens in the future," Brooks added.